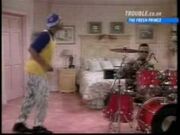 After Ashley reveals to Will that she does not enjoy playing the violin, he takes her to a pawn shop in East LA and trades her violin in for a drum set. He tries to ease the blow to Uncle Phil and Aunt Viv by also getting them gifts before revealing Ashely's new music teacher, Jazz .Bang the Drum, Ashley is the second episode of the first season which was broadcast for the first time on September 17, 1990.
Ad blocker interference detected!
Wikia is a free-to-use site that makes money from advertising. We have a modified experience for viewers using ad blockers

Wikia is not accessible if you've made further modifications. Remove the custom ad blocker rule(s) and the page will load as expected.